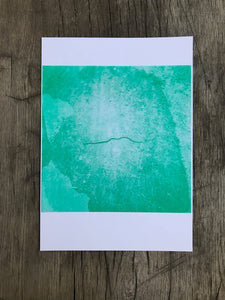 This is a silk-screen print from my photograph "Blindschleiche". I screenprinted this during some wonderful days with Self Publish Be Happy in Tokyo in 2013.
This Print is also part of a book (Compilation Tokyo, Edition 50, sold out) that was made during the workshop. 
These Prints are all incorrect Prints and I especially like these! 
One of a kind. Each one is a bit different. All are green.
Size: 24x30cm 
14 available
more about my work: anneschwalbe.de/all
Dies ist ein Siebruck meiner Fotografie "Blindschleiche". Diesen Siebdruck habe ich während eines Self Publish Be Happy Workshops in Tokyo 2013 erstellt. Dies sind Fehldrucke und ich mag sie sehr.
Dieser Siebdruck ist auch Teil eines Buches das während des Workshops 2013 hergestellt wurde. (Compilation Tokyo, Auflage 50, sold out)
Einzelstücke. Jeder Druck ist etwas anders. Jeder Siebdruck ist grün.
Größe: 24x30cm  
14 verfügbar
mehr Informationen: anneschwalbe.de/all